AEI is an electronic identification system used by the North American railroad industry. Composed of rfid electronic tags and rfid readers installed on both sides of the vehicle, AEI uses RF technology to identify railway equipment. The AEI tag is the RFID railway electronic tag as the main accessory of the vehicle, the internal memory stores the vehicle number information and the technical parameter information of the vehicle. Each electronic tag is equivalent to the "ID card" of each vehicle.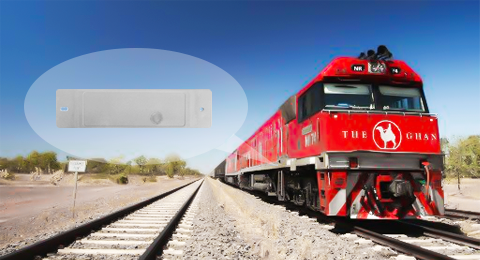 As of December 31, 1994, Amtech had shipped over 3.1 million labels to railroads in North America. The AAR reports that more than 95 percent of the North American rail fleet is tagged. As of the end of 2000, more than 3,000 barcode readers had been installed on North American railroads. Amtech was acquired by TransCore. Today, TransCore is the world's foremost producer of railway RFID tags.
The AAR's S-918 specification outlines ten recommended frequencies ranging from 902.250 to 921.500 MHz, depending on the location of the reading device (field station or trackside), with a nominal transmit power of 2.0 watts.
Coded and uncoded AEI tags from Transcore, USA, available in standard (AT5118) and high temperature (AT5133) versions: AT5118 standard temperature AEI RFID tags and AT5133 high temperature railroad tags (heat resistant coating)
Function: Realize automatic identification of train number, provide real-time basic information such as train number and carriage number for the railway transportation management system; replace manual copying of train number, ensure data authenticity, timeliness, accuracy and consistency; improve operation efficiency, reduce the labor intensity of operators; provide transportation confirmation information, and realize the modern management of transportation.