Supply chain management refers to the management and coordination of the entire process from the procurement of raw materials to the delivery of final products to customers. The Internet of Things technology is to exchange data through physical equipment networks, sensors, software and other tools, connect objects and equipment, and realize intelligent interaction and real-time monitoring of information. IoT technology can be well applied in supply chain management to improve the visibility, efficiency and traceability of supply chain processes.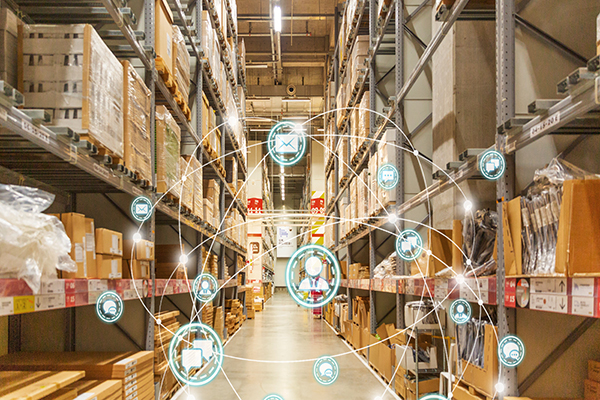 IoT technology can provide support and application in the following aspects in supply chain management:
Real-time logistics tracking: IoT technology can use sensors and electronic tags to track the logistics process in real time, including the location, temperature, humidity and other information of the goods. This helps improve supply chain visibility and traceability, reducing logistical delays and losses.
Real-time monitoring and scheduling: IoT technology can connect different links in the supply chain to realize instant sharing and collaboration of information. For example, monitor inventory and order requirements through sensors and equipment, timely conduct material procurement and production scheduling, and reduce inventory backlogs and out-of-stock situations.
Prediction and optimization: IoT technology can quickly process and accurately predict supply chain data through big data analysis and machine learning algorithms, thereby helping companies optimize logistics planning, forecast demand and control costs.
Asset management: IoT technology can realize real-time monitoring and management of various equipment and assets in the supply chain, including machinery and equipment, transportation tools, storage facilities, etc. This helps improve asset utilization, reduce maintenance costs, and improve supply chain flexibility and responsiveness.
In general, the application of IoT technology can make supply chain management more efficient, intelligent and controllable, help enterprises improve operational efficiency, reduce costs, and provide better logistics services and customer experience.
Shenzhen Handheld-Wireless Technology Co,Ltd. combine Internet of Things technology and RFID, barcode, fingerprint, iris and other functions can provide the most convenient and efficient industrial pda device and software support for supply chain management, and can be widely used in production, warehousing, logistics and other links .