Ultra-high frequency UHF handheld device is a machine used in warehouse inventory, new retail code scanning, manufacturing, police office and clothing management. Compared with the traditional handhelds in the past, the handhelds add the function of reading beyond the line of sight RFID. On the original function, improve the function or update.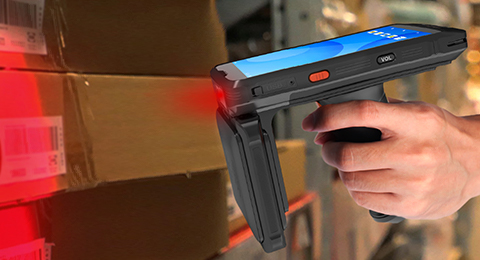 1. The function of scanning code and card reading is more powerful, and wireless scanning code is more convenient.
Even low-quality codes and defaced codes can be quickly recognized by UHF handhelds, with a high recognition rate. Don't worry if the barcode is damaged in transit. And wireless scanning code allows the staff holding the machine to walk freely without being blocked compared to wired scanner. For example, some Express drivers can even hold a terminal device and travel all over China, sweeping the country.

2. Fast barcode reading speed, 200tag in 10 seconds.
For some traditional handheld devices, it takes a second or two to stop after scanning the code to respond. UHF handsets don't waste time, their rate is 200 tags per second. You can scan the goods in 10 seconds, which is a great time saver.

3. Built-in positioning system, anti-drop and anti-lost.
There is a positioning system in the handheld machine, no matter where you leave the machine, you can find it back, not afraid of being stolen, nor afraid of the careless person leaving the machine aside. Most importantly, drop-resistant. Everyone has the heartbreak of the broken screen of the mobile phone. The handheld is not afraid of falling, and it has a 1.5m anti-drop function.
Octa-core processor, large memory, running memory up to 4g, high-definition display, long battery life, and GPS positioning. UHF RFID handhelds are simply machines tailored for the Internet of Things.